Do you enjoy Sunday Brunch and Wednesday night dinners at Café St Mark?  Each week it takes numerous volunteers to go from a list of ingredients to delicious meals served at your table.  In order to continue with the great service you are accustomed to, Café St Mark is seeking volunteers to help both in the kitchen and the dining room, especially Sunday Mornings. If you can give of your time, weekly, monthly, as a substitute or just help at special events please contact Connie. We invite you to join our kitchen fun!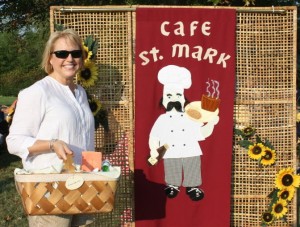 An omelette on Sunday? Tenderloin or shrimp on Wednesday? Each week Café St Mark offers up some new taste delight for us to enjoy.
Through the efforts of Chef Connie and a dedicated group of volunteers we have the opportunity to enjoy freshly prepared food while we join our friends for fellowship and conversation.
We believe that sharing a meal together gives us a unique opportunity to re-connect with our friends each week as well as welcome visitors to the life of St Mark. A lot of Jesus's ministry happened around sharing a meal with others as well!
The Café is open on Sunday mornings from 9:00 am – 10:30 am and on many Wednesday evenings from 5:00 pm – 7:00 pm (see the St Mark Calendar below for specific dates). The Café also caters special events throughout the year.
If you go to This Week at Café St Mark in the drop down, you can see the menu for the upcoming Wednesday.
As a special treat, Chef Connie will share with us some of her favorite recipes under that drop down.