Christian Education at St Mark is for everyone from infants to adults.  There are many things going on here at St Mark, so to help you get around here are few links to help you get around the page:Newborn to 3 year olds: 

Splash
Sunday School:  Sept. to June, Sunday mornings at 9:30
Special Classes
———————————————————————————————–
Splash
The arrival of a new baby triggers the Splash series which is a series of monthly mailings of Christian activities for parents and their children from birth until the age of 3 years old.  These faith formation activities include age appropriate Bible stories, hymns and prayers.  The publication suggests ways for parents to connect with their children and talk about God throughout the course of the day.  If you have a child of the appropriate age and are not receiving monthly Splash mailings, please contact the church office to be enrolled.
Catechesis of the Good Shepherd
Catechesis of the Good Shepherd classes are for children ages three through kindergarten. This program uses a hands-on approach to learning similar to the Montessori educational method and is structured to help young children personally experience Jesus' love. In our atrium, lessons are designed to create a sense of awe and excitement about God and His love for us and to help the children participate more fully in the worship liturgy. Parents are always welcome to attend the classes with their children. Special celebrations specifically designed for children to share with their parents are also sometimes planned, for example:
• Thanksgiving – thanks for our blessings
• Epiphany – wise men visit baby Jesus
• Palm Sunday – Jesus enters Jerusalem
• Liturgy of the Light – Jesus' resurrection
• Pentecost – gift of the Holy Spirit
Rotational Sunday School
Rotational Sunday School is for children grades 1-5. Rotational Sunday School teaches students about Bible stories using hands-on experiences (such as art, cooking, computer, drama, games and multimedia), recognizing that different students learn in different ways. The same Bible story is studied in all of the workshops for 4 or 5 weeks, for emphasis and retention. Each Sunday the students rotate to a new workshop. Topics are selected to help prepare students for confirmation studies and learn to apply Biblical lessons to their everyday lives. Rotational topics for this year are: Noah, Beatitudes, Wise Men at Nativity, David & Goliath, Esther, Lent & Easter, Proverbs and Jonah.
Quest
Quest is for middle school age students grades 6-8. The emphasis is on developing an understanding of the Bible and deepening the faith of the students by forming a relationship with God.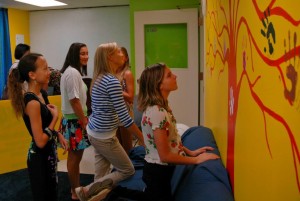 This class will guide students' quest for knowledge. Together we will begin a journey to find answers to some of life's most powerful questions, such as: Why is it important to pray? Does prayer really make a difference? What does it mean to have faith? How can the Bible help me in my life when it was written so long ago? What are icons and why does one church have them and another may not? Where did the Gospels come from? Why were they written and who wrote them? What is the liturgy and why is it important? These are only a few of the questions that we hope to explore together and find answers. This class is designed to be more than a Bible study, it is designed to be an experience.
Please bring your Bible, if you do not have a Bible one will be provided. This class is intended to augment the instruction these students receive for confirmation.
Teen Extreme
Teen Extreme is designed for high school students in grades 9-12. This class is geared to spiritual development in today's teens' lives.  This year's discussion topics will explore our Baptismal Covenant and the Lutheran Faith Practices. These 7 faith practices are; Pray, Study, Worship, Invite, Encourage, Serve and Give.  Besides seeking to continue developing individual spirituality, this class will develop a community to which our students can identify and belong.
Adult Sunday School
After graduating from high school, students and adults are encouraged to continue their education and faith development. Classes are currently offered on Sunday mornings at 9:45 am.
Vacation Bible School
Vacation Bible School (VBS) at St Mark is a week-long program held in the evenings during the summer. Each year a new theme is chosen and rotational activities such as Bible stories, crafts, games, exploration and music are incorporated into the curriculum.
First Communion Classes
Pastor teaches 2nd graders about receiving the sacraments during the Eucharist. Classes will be held on 3 Sunday afternoons in April or May.
Confirmation Classes
Confirmation Classes for seventh and eighth graders are taught from 5:00-6:00 on Sunday evenings from September through May. These classes are based on Martin Luther's Small Catechism to provide youth a deeper understanding of their Christian faith and the Lutheran denomination prior to their confirmation. Students successfully completing their confirmation classes will be confirmed during the 11:00 am service on Day of Pentecost.
Inquirer Classes
These classes are taught by the pastor for prospective new members. The series of three classes give people new to the Lutheran faith and/or new to St Mark an opportunity to talk with the pastor and members of the various committees to learn more about our congregation. The classes are taught on Sunday evenings and are offered periodically throughout the year.