Pastor Joel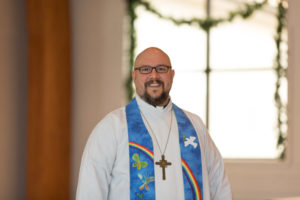 March, 2018 
The boy was like a corpse, so most of them said, "He is dead." But Jesus took him by the hand and lifted him up, and he was able to stand.
—Mark 9:26-27
As we gather in midweek Lenten worship, this story of a parent whose child is like a corpse rests with us. It's a story repeated tragically around us: the story of war-torn refugees on the nightly news; the story of loved ones in our midst who bury their children; the story of the cross as Jesus hangs in front of his mother's agony, in front of Our Father's terror. We hate that this is a story we know. We hate that this is a story we suffer. And we yearn for it to be true – if Jesus is able – that he will take this story by its hand and lift all these children to stand in life.
If Jesus is able. Christ needs to be able. The savior needs to keep us safe, or what savior is he?
Jesus needs to take the hands of children we see in orphanages and raise them into holy families. Jesus needs to take the hands of children in refuges – y refugios – and raise them into secure futures. Jesus needs to take the hand of a boy here in York County: he's not yet ten years old; he loves to read and play with computers; he's creative, intelligent, innovative – and he's living in foster care. His caseworker thinks he'd benefit from this summer from Camp Invention – a "nationally recognized, non-profit elementary enrichment program" where "children are presented with fun, hands-on challenges that encourage creative problem solving, teamwork, entrepreneurship, and innovation." The only holdback is was $95 for registration: Jesus, among us, is holding his hand.
When across the ELCA we say "God's work. Our Hands." What we're saying is Jesus does reach out to restore and care for this world. With our hands Jesus is taking the hands of our neighbors. With our hands Jesus is helping people to stand – and while we continue to know the stories of loss, we also see the stories of resurrection breaking through. With our hands the hands that receive the nails of the cross become the hands that invite new faith, new trust in God for both the future and today.
Jesus is able – and we can do all things through him who strengths us. The savior keeps us safe, around the world and – person by person – in our communities here. And because we love that this is also a story we know, let's extend our hands to share it.
 With the peace of Christ at hand,
Pastor Joel