Pastor Joel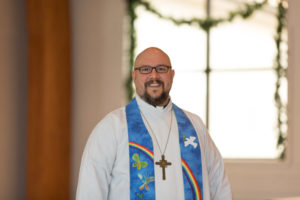 June, 2017 
All of them were filled with the Holy Spirit.
—Acts of the Apostles 2:4a
It was late at night in ancient Palestine when Jesus chatted famously with a friend about the Holy Spirit (among other things). He said, "The Spirit blows where it wishes, and you hear the sound of it, but cannot tell where it comes from and where it goes" (John 3:8). Well, maybe back then Jesus' friends didn't know where the Spirit comes from or where it goes — but we do.
The Holy Spirit is moving in and out from you. It's so plainly evident. Look at the worship you offer God, at the time you take to quiet yourselves and thank God for this miracle of life. Look at the work you offer in compassion to the world, at the time you give in care for neighbors, at the money you invest in the mission of Good News for children around the world. Talk with the youth who confirm their faith and to those who lead us in prayer and in practical service. Talk with the preschool families, the Yorktown chorale singers, the children at Family Focus, the diners at Café St Mark, the audiences of Sine Nomine concerts, the recipients of Mended Hearts pillows and of warm quilts: the Holy Spirit moves in and out from you to make our community at home in this house of prayer.
Last month as our global communion gathered in Namibia, I shared pocket prayer shawls from St Mark with bishops, pastors, deacons and delegates from around the world: they all gave genuine thanks to know they were held in prayer by a congregation most would never meet face-to-face. But when I shared those same pieces with children from local congregations, the kids smiled and danced and clutched their small shawls close: the gift of the Spirit flowed out from you into their hands and hearts because even the smallest knew it was a sign of being noticed and of being loved. What better can we give? What more can we desire? God the Holy Spirit is alive in you—and through you to the world—and from God's children in the world back to you. This is what it means to belong to Christ, to love and to share in peace. This is what gathers us as St Mark. This is what blesses us with the gifts of Pentecost to usher in all the world – bring your friends, tell your neighbors – to live in this Holy Spirit of Life!
In Jesus' Spirit and in peace,
Pastor Joel