Pastor Joel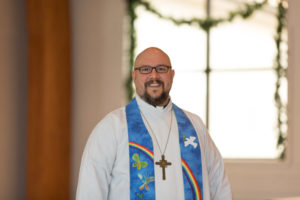 December, 2017 
You clothed me with skin and flesh, and knit me together with bones and sinews. You have granted me life and steadfast love, and your care has preserved my spirit … [but] why did you bring me forth from the womb?
—Job 11-12, 18a
At the end of the book of Revelation Jesus testifies, "Surely I am coming soon!" And the people say, "Amen. Come Lord Jesus!" This prayer – Come Lord Jesus – is one of our oldest and simplest, wrapping deep faith and urgent hope in three little words: we center on Jesus, we receive him as Lord, we want him to come…and to come quickly!  
We welcome each new liturgical year with a season of Advent, preparing for our Lord Jesus to come. We renew our faith in his initial incarnation so many years ago in Bethlehem. We restore our hope in his coming again to judge the living and the dead as redeemed for new life. Yes: come soon, Lord Jesus!
Thinking of a sweet baby's face in the soft hay of a renaissance crèche, and thinking of a reuniting rapture with all God's beloved saints, it makes sense we want our Lord Jesus to come soon. And we're in luck! Rather than a long month of Advent, Jesus comes as a preemie this Christmas: only three weeks between the beginning of Advent and the night of our dear Savior's birth.
Then again, it also begs the question: will three weeks be long enough to get ready? All the buying and the baking, the cleaning and the decorating, the partying and the recovering, the coming and the going: can we sacrifice a week? And poor Mary: has she finished the nursery, learned her Lamaze, sent her baby shower thank-yous, and had time for her milk to come in? And the poor saints: have they readied a faith that will welcome God's coming with the angels' intent that we not be afraid? And poor Jesus: is a three-quarter Advent enough time to fully grow and strengthen – is a preemie able to trade the warmth of a NICU for the night air of Palestine – is a quick return going to reveal a grateful world?
It's not too hard for me to find myself praying, "Amen, come Lord Jesus – but not till we're all good and ready, not till we've fixed everything up right, not till we've made your salvation redundant by saving ourselves from this mess of our unprepared existence!" And I can even I hear a still small voice rise from a manger to the skies: "Why did you bring me forth from the womb? Is anyone ready for this? Do they want in their hearts what they ask on their lips?"
What a good question: do we – or do I – want what we ask when we pray Come Lord Jesus? Maybe not. Maybe I'd rather work it all out for myself and keep Jesus for a decoration rather than a savior. But heaven answers Jesus' prayer differently: "You are my son, my beloved; in you I am well pleased. I have named you Jesus because you will save your people from their desire to be their own saviors. You'll meet them where they're not ready and every odd will be against you, but the miracle of Christmas will be your coming to an unprepared world that is wrapped in deep faith and urgent hope, praying in three little words – centered on you, Jesus; receiving in you their Lord; wanting needing you to come quickly. The time is right: do quickly what you are going to do."
Amen. Come Lord Jesus!
Trusting with you his peace,
Pastor Joel