Creamy Roasted Mushroom Soup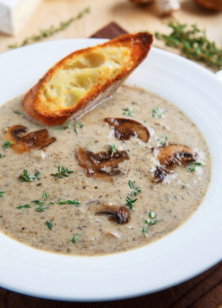 Recipe: Creamy Roasted Mushroom Soup
---
Roast  Lamb
6-8 pounds leg of lamb, bone-in
½ cup Dijon mustard
3 large cloves garlic, chopped
1 TBSP freshly chopped rosemary
1 TBSP of good balsamic vinegar
1 TBSP kosher salt
1 tsp freshly ground pepper
3 pounds ripe tomatoes, cored and cut into 1/2 inch dice
1 large Spanish or yellow onion, halved (or quartered if large) and sliced
6 large cloves garlic, chopped
½ cup extra virgin olive oil
¼ cup honey
1 ½ TBSP kosher salt
2 tsp fresh ground pepper
2 sprigs fresh rosemary
8-10 springs fresh thyme
¼ cup honey (to drizzle on lamb last ½ hour of roasting)
Preheat the oven to 400 degrees.
Pat dry the lamb with paper towels. Rub legs with some EVOO and sprinkle with salt and pepper. Heat a non-stick fry pan (with a tsp or so of olive oil) to medium high. Sear the leg of lamb on both sides and place in a large roasting pan, fat side up. Combine the mustard, garlic, rosemary, balsamic vinegar, salt and pepper in a mini food processor and pulse until the garlic and rosemary are minced. Spread the mixture on the lamb.
Place the tomatoes, onion, garlic, olive oil, honey, salt, and pepper in a bowl and toss well. Pour the tomato mixture around the lamb and tuck in the thyme and rosemary sprigs. Cover pan tightly with foil.
Roast for 20 minutes. Turn the heat down to 350 degrees and roast for another hour. Remove foil and drizzle ¼ cup honey over top of lamb. Roast, uncovered, another 20-30 minutes, until a meat thermometer registers 135 degrees for medium-rare. Place the lamb on a cutting board, cover with aluminum foil, and allow to rest for 15 minutes. Discard the herb stems and return the tomatoes to the oven (250*) to keep warm . Slice (or pull apart) the lamb, arrange on a platter, and serve with the vegetables and pan juices spooned on top.
---
Herbed Polenta Gratin
1 quart whole milk
1 quart water
1 stick unsalted butter
1 TBSP plus 2 tsp kosher salt
1 TBSP chopped fresh rosemary
2 cups (12 oz) polenta (NOT instant)
2 large eggs
1 3/4 cups fresh grated parmesan cheese
1 ½ cups Heavy Cream
Oil a 12-by-15-inch rimmed baking sheet. In a saucepan, bring the milk, water and butter to a boil. Add the salt and rosemary. Gradually whisk in the polenta until smooth. Bring to a simmer, whisking, until thickened. Cook over low heat for 15 minutes, stirring. Remove from the heat and let cool for 10 minutes, stirring occasionally.
Whisk the eggs into the polenta, one at a time, then whisk in 1 cup of the Parmesan cheese. Spread the polenta on the prepared baking sheet in an even layer. Let cool to room temperature, then cover with plastic wrap and refrigerate until firm, at least 2 hours or overnight.
Preheat the oven to 400°. Lightly butter a 15-by-10-inch baking dish. Cut the polenta into 2-inch squares. Arrange the squares in the prepared baking dish in a single layer, overlapping them slightly. Pour the cream over the polenta and sprinkle the remaining ¾  cup of Parmesan on top. Bake for 40 minutes, or until puffed and golden. Let stand for 10 to 15 minutes before serving.
---
Pastitsio
Meat Sauce:
2 onions, chopped
2 TBSP EVOO
2-3 large cloves garlic
1 pound ground sirloin
1 pound ground lamb
1 28oz can good crushed Italian tomatoes (Cento)
1 15oz can chopped tomatoes, drained
1/2 can good tomato paste
1 cup red wine
4 thyme sprigs
2 Bay leaves
1 ¼ tsp cinnamon
1 ¼ tsp all spice
½ tsp nutmeg
¼ tsp cloves
1/3 cup minced fresh parsley
Cook onions in oil in a 12-inch heavy skillet over medium heat, stirring frequently, until softened. Add garlic and cook, stirring, 1 minute. Increase heat to high, then stir in lamb and beef and cook, stirring occasionally and breaking up any lumps, until meat starts to brown, about 15 minutes.  Add remaining ingredients and cook on medium low until it thickens, about 40 min. Season with about 1 ½ tsp kosher salt
Pasta:
1 pound penne rigate
4 tablespoons unsalted butter, melted
1 egg, slightly beaten
1 cup good Parmesan cheese, grated
Cook the pasta 3 minutes shorter than al dente directions.  Drain and toss with butter and set aside to cool slightly.
Bechamel Sauce:
½ cup unsalted butter
½ cup all-purpose flour
4 cups whole milk
1 teaspoon salt
1 teaspoon white pepper
½  teaspoon ground nutmeg
3 egg yolks, lightly beaten
¾ cup good grated Parmesan cheese
In a large saute pan, melt the butter over medium heat. Add the flour and whisk until slightly browned, about 1 minute. Gradually add the milk, whisking constantly. Continue cooking and whisking until the sauce is thickened, 10 to 15 minutes. Remove from the heat and whisk in the salt, pepper and nutmeg and set aside to cool slightly.
Preheat the oven to 375*
Assemble the Pastitsio:
Sprinkle 2 TBSP breadcrumbs over bottom of greased baking dish (metal 9×13 lasagna pan works best). Arrange penne into rows, side by side over bottom of dish, nestled closely together. Spread the entire meat sauce mixture over the layer of pasta. Arrange the second layer of pasta over the meat sauce, covering everything. Add the beaten egg yolks and Parmesan cheese and whisk into the Bechamel sauce and cover the entire dish with the Bechamel. Mix 2 TBSP additional bread crumbs and 2 TBSP parmesan cheese together and sprinkle over the top.
Bake uncovered until the surface of the pastitsio is browned and bubbling, 45 minutes to 1 hour. Allow to sit for 15 minutes before slicing and serving. Leftovers should be stored, covered, in the refrigerator for up to 4 days.
---
Orecchiette with Pistachio Pesto
---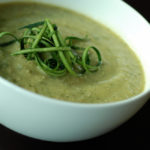 ---
FlapSteak/Flank Steak/London Broil Marinade (for 4 pounds)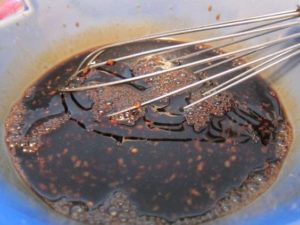 ¾ cup Soy Sauce
¾ cup Balsamic Vinegar
¾ cup Real Maple Syrup
8 large clove garlic, chopped
2 TBSP Worcestershire Sauce
1 tsp Kosher salt
1 tsp fresh cracked pepper
Whisk all together and pour over cut of meat, covering all. Marinate 24 hours, turning over in marinade once. Remove from marinade, remove excess marinade from meat and grill or broil. Let rest for 5 min. and slice against the grain. Remaining marinade can be transferred to saucepan and reduced over med high heat by half and drizzled over beef.
---
Roasted Sweet Potatoes with Honey and Warm Spices
4 pounds sweet potatoes, peeled and cut into 1 inch chunks
1/2 cup extra virgin olive oil
1/4 cup plus 1 TBSP honey
2 tsp cinnamon
1/4 tsp nutmeg
1/8 tsp ground ginger
1/8 tsp ground mace
 Dash of ground cloves
1 tsp Kosher salt
½ tsp fresh ground pepper
1 stick unsalted butter, melted
Spray sheet pans with non-stick spray. Place sweet potatoes on trays (so that all the potatoes have surface area on the pan. Do not overcrowd). Drizzle with the EVOO. Sprinkle the spices over potatoes. Toss the mixture together so all potatoes are coated evenly and spread out onto sheet pans. Roast in 375*(400* if slow oven). Set timer for 15 minutes, pull from oven and turn all potatoes over. Drizzle melted butter over potatoes and roast another 15 minutes. Look for caramelization and tenderness; may need another 5-10 minutes.
---
Panna Cotta with Balsamic Strawberries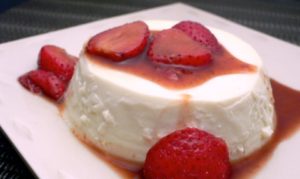 For Panna Cotta
2 TBSP water
1 ¼ tsp unflavored gelatin
2 cups heavy cream
1 ¼ cups plain full fat Fage yogurt
1 vanilla bean, cut down the middle lengthwise to expose inside of bean
½ tsp pure vanilla extract
½ cup sugar
Preparation:
Pour water into small bowl and sprinkle gelatin over water. Let stand until softened, about 15 minutes. Whisk 1 cup cream, yogurt, and vanilla extract in a large bowl to blend. Heat remaining 1 cup cream, ½ cup sugar and vanilla bean in small saucepan over medium heat, stirring until sugar dissolves and cream comes to a simmer. Remove from heat and remove vanilla bean. Add gelatin mixture to the heated mixture, stirring to dissolve gelatin. Mix hot cream and gelatin mixture into yogurt mixture in large bowl until smooth. Divide mixture (about ½ cup) into six ¾ cup ramekins or wine glasses. Refrigerate desserts uncovered until cold, then cover and refrigerate overnight.
Strawberries:
1 quart strawberries, hulled and sliced
3 TBSP good quality balsamic vinegar
1 TBSP sugar
½ tsp fresh ground pepper
Preparation:
Toss strawberries, vinegar, sugar and pepper in bowl to combine. Let stand 30 minutes, tossing occasionally. Spoon Strawberries over Panna Cotta and serve.
---
Chocolate Brownies with Salted Caramel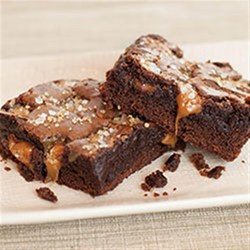 Ingredients:
2 sticks unsalted butter
8 ounces Ghirardelli semi-sweet chocolate chips
3 ounces good quality unsweetened chocolate
3 extra-large eggs
1 TBSP instant coffee (use instant espresso for more intensity)
1 TBSP pure real vanilla extract
1 cup plus 2 TBSP sugar
½ cup all-purpose flour
1 ½ tsp baking powder
½ tsp Kosher salt
4-6 oz Ghirardelli semi-sweet chocolate chips tossed w/ 2 TBSP flour
6 oz Fran's Caramel Sauce
2-3 tsp flaked sea salt
Preparation:
Preheat oven to 350 degrees. Butter and flour a 9×13 baking pan.
Melt the butter, semi-sweet chips, and unsweetened chocolate together in medium bowl set over simmering water, blend with spatula, remove from heat and let cool for 15 minutes. In a large bowl, stir together eggs, coffee, vanilla and sugar. Stir the chocolate mixture into the egg mixture and let cool to room temperature.
Sift together the ½ cup flour, baking powder, and salt and add to the chocolate mixture.  Combine the remaining chocolate chips tossed with the flour, to the chocolate mixture. Spread evenly into the prepared pan.  Bake for approx. 30 minutes until a toothpick comes out clean. Be careful not to overbake.
Remove the brownies from the oven, warm the jar of caramel sauce in the microwave (lid removed) until pourable. Stir and drizzle caramel evenly over hot brownies and sprinkle with the flaked sea salt. Cool completely and cut into bars.
---
Savory Bread Pudding w/ Wild-Mushrooms and Fontina Cheese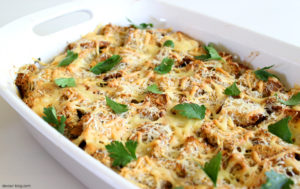 Butter a 9×13 glass pan.  Pre-heat the oven to 350
Beat together:
6 large eggs
1 egg yoke
2 cups half and half
½ cup grated Parmesan Reggiano
1/2 tsp Kosher salt
¼ tsp fresh ground black pepper
1/8 tsp nutmeg
½ tsp Herbs de Provence (optional)
Saute in pan until softened:
2 TBSP butter
1 ½ pounds fresh cremini, oyster, shitake and/or chanterelle mushrooms (any combination)
½ cup finely chopped shallots
Add 2 finely chopped garlic cloves and saute another minute.
Add 1/3 cup finely chopped flat-leaf parsley
Combine this mixture with the egg/half & half mixture. Stir in 1 ¼ cup shredded Fontina cheese
Cut ¾ pound French bread loaf into 1/3 inch cubes. Fold into wet ingredients and let sit for at least 20 minutes, folding every few minutes to combine.  Pour into the prepared pan. Place pan into roasting pan and pour 1 inch hot water into roasting pan. Cover roasting pan with foil. Place in oven and bake for approx 35 minutes. Remove foil and bake just until set. Let stand 5 minutes before cutting into squares to serve.
Serves 15
** Variation:  For Asparagus, Fontina and Fine Herbs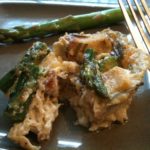 Prepare wet ingredients as directed (add 1 cup of grated parmesan instead of ½ cup) and substitute white pepper for black pepper.
Trim and blanch 1 pound asparagus and cut into 1 ½ inch pieces. Chop 1/3 cup fresh chives, 1/3 cup fresh parsley (to replace the ½ cup above) and 1/3 cup fresh marjoram.  Stir the asparagus and herbs into the wet mixture. Mix in 1 ½ cups shredded Fontina cheese and toss mixture with the bread cubes and continue directions as above.
---
Homemade Buttermilk Ranch Dressing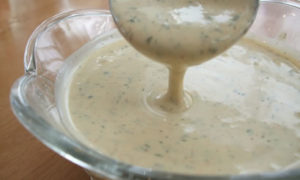 3 green onions, white and green parts, chopped
3 large garlic cloves
½ cup chopped fresh basil leaves, lightly packed
2 TBSP fresh lemon juice
1 ½ TBSP Dijon mustard
1 TBSP extra virgin olive oil
2 ½ tsp kosher salt
1 tsp fresh ground pepper (or to taste)
½ cup good mayonnaise
1 cup Greek-style yogurt (Fage Total)
½ cup buttermilk, shaken
Preparation:
Place the scallions, basil, lemon juice, mustard, olive oil, garlic, salt and pepper in the bowl of a food processor and puree for 20-30 seconds until mixture is finely ground. Add the mayonnaise, yogurt, and buttermilk and blend until smooth. Transfer dressing to a container and refrigerate for at least one hour to let flavors develop. Can be kept refrigerated in air-tight container for 2-3 days.
Makes 2 ¼ cups dressing
---
Parsley Sauce for Beef, Chicken, Fish and Vegetables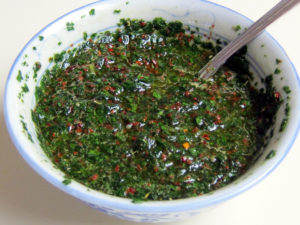 6 cups, packed, fresh flat-leaf parsley leaves
4-6  large garlic cloves
4 tablespoons red wine vinegar
2 tsp crushed red pepper flakes
2 tsp sugar
Kosher salt and freshly ground black pepper
1 cup extra virgin olive oil
Preparation:
Using a food processor, blend together parsley, garlic, vinegar, red pepper flakes, sugar, 1 ½ tsp salt and ½ tsp pepper until smooth. With the machine running, gradually add the olive oil and process until incorporated.
Makes 1 ¼ cups
---
Warm Cider Vinaigrette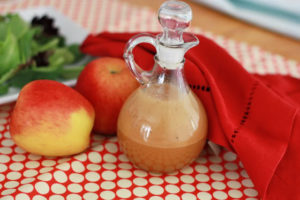 Ingredients:
3/4 cup apple cider
2 TBSP cider vinegar
2 TBSP minced shallots
2 Tsp Dijon mustard
Prep:
Combine apple cider, vinegar and shallots in saucepan and bring to a boil over medium-high heat.  Cook for 6-8 minutes, until mixture is reduced to about ¼ cup. Remove from heat and cool slightly. Whisk in the mustard, 1 tsp kosher salt, and ½ tsp pepper and stream in ½ cup olive oil while whisking.  ***  Great over sturdy greens such as arugula, romaine. Add butternut squash which has been cut and roasted with olive oil and maple syrup, salt and pepper.  4-6 servings.
---
Seared and Roasted Pork Tenderloin w/ Cocoa Spice Rub
Ingredients: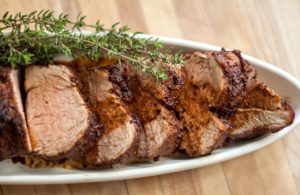 1 TBSP whole white peppercorn
1 TBSP whole coriander
4 ½ TBSP ground cinnamon
2 Tsp ground nutmeg
1 Tsp ground cloves
4 TBSP unsweetened cocoa
4 TBSP sea salt
2 (2 pound) boneless pork tenderloins
2 TBSP extra-virgin olive oil
Prep: Preheat oven to 400*
In a medium saucepan over medium heat, toast white peppercorns and coriander seeds until they begin to pop. Remove from heat and grind to fine powder in a spice mill or mini food processor. Combine this mixture with remaining spices, cocoa and salt.
Rub tenderloins with a generous amount of the cocoa spice rub. Heat  the olive oil in large skillet over medium high heat until hot but not smoking. Sear each tenderloin on all sides until a rich brown color, about 2 minutes on each side. Remove tenderloins from heat and finish in oven for about 15 – 20 minutes or until meat thermometer reads above 145*.  Let the tenderloins rest 10 minutes before slicing.
Spice rub will keep in airtight container for up to 3 months.
8 servings
---
Tomato Basil Couscous
Ingredients: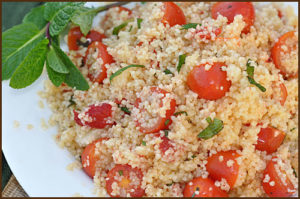 6 cups chicken broth
30 oz couscous
3 cups chopped green onion
3 cups diced plum tomatoes
1 cup thinly sliced resh basil
1 cup EVOO
1 cup Red Wine Vinegar
¾ tsp red pepper flakes or to taste
1 ½ tsp Salt
Fresh ground pepper
3 cups cherry tomatoes, halved
Prep: Bring broth to a boil; add couscous. Cover and remove from heat, let stand for 8 minutes.  Transfer to a large bowl; fluff with fork and cool.
Add onions, tomatoes, basil, oil, vinegar, pepper flakes, salt and pepper.  Mix well.  Cover and refrigerate until chilled or serve room temp.  Garnish with cherry tomatoes.
---
Lemon-Honey Brine for Chicken w/Herbs de Provence
Ingredients:
4 lbs Bone-In Chicken Breasts or whole bird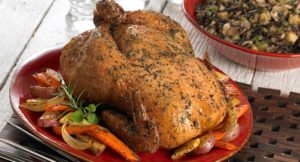 9 quarts water
2 cups Kosher salt
1 cup honey
3 ½ tsp whole black peppercorns
5 large cloves garlic, peeled
2 handfuls fresh thyme
4-6 bay leaves
3 lemons, sliced
Prep:
Add salt, honey, peppercorn, garlic, thyme, bay leaves and lemon slices to pot of water and bring to boil.  Stir to dissolve honey and salt and boil no more than 5 minutes.   Remove from heat, cool and refrigerate overnight.  Add chicken pieces to cold brine and refrigerate at least 16 hours, or up to 24 hours.  Remove from brine and pat dry.
For roasting with Herbs de Provence: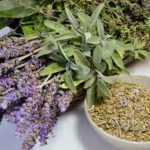 Drizzle pieces liberally with olive oil. Prepare a mixture of dried Herbs de Provence, Lavender, Kosher salt and pepper and sprinkle each piece with the mixture (1-2 tsp per breast) and massage
into pieces with additional olive oil until thoroughly coated on all sides.  Place breasts on sheet pan that has been sprayed with oil. Roast at 425* for approximately 35-45 minutes, depending on the size of the breasts.  A thermometer inserted at thickest point should read 155* and juices should run clear (chicken will continue to cook after removed from the oven so don't overcook).
---
Winter Squash and Apple Soup w/ Cider Cream
Ingredients: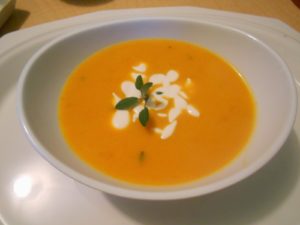 5 TBLSP butter
2 ½ pounds butternut squash, peeled, seeded, cut into ½ inch pieces (about 6 cups)
2 cups chopped leeks (white and pale green parts only)
3/4 cup chopped peeled carrots
½ cup chopped celery
2 medium Granny Smith apples, peeled, cored, chopped
1 ½ tsp dried thyme
½ tsp crumbled dried sage leaves
5 cups chicken stock
1 ½ cups apple cider
2/3 cup sour cream
½ cup whipping cream or half and half
Chopped fresh chives
Prep:
Melt butter in heavy large saucepan over medium-high heat. Add squash, leeks, carrot, and celery; sauté until slightly softened, about 15 minutes. Mix in apples, thyme and sage. Add stock and 1 cup cider and bring to boil. Reduce heat to medium-low. Cover and simmer until apples are tender, stirring occasionally, about 30 min.  Cool slightly.
Working in batches, puree soup in blender. Return soup to pan. Boil remaining ½ cup cider in heavy saucepan until reduced to ¼ cup, about 5 minutes. Cool. Place sour cream in small bowl and whish in reduced cider. (Soup and cider can be made one day ahead. Cover separately and refrigerate.
Bring soup to a simmer. Mix in heavy cream. Ladle into bowls and top with dollop of cider cream. Top with chives.
---
Potato, Green Bean and Bacon Salad
Ingredients:
1 pound new potatoes, cubed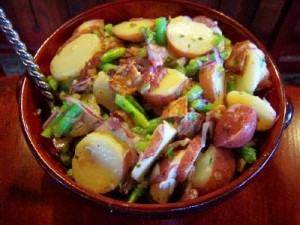 4 tablespoons EVOO
Kosher salt and pepper to taste
¼ pound French green beans, blanched, shocked
1 red onion
¼ cup sugar
¾ cup red wine vinegar
8 slices bacon, cooked till crisp
3 tablespoons sherry vinegar or mixture from red onions in red wine vinegar/sugar
Prep:
Toss potatoes in EVOO, salt and pepper. Roast at 450* degrees until golden but not
overcooked. Cut blanched green beans into bite-sized pieces. Place thinly
sliced red onion in saucepan with red wine vinegar and sugar; bring to a boil
and simmer for 3-4 minutes. Let cool and strain.  Toss all ingredients together and add several
tablespoons of the sherry vinegar or red wine vinegar mixture.
---
Tomato Soup with Vodka
Serves 8-10 as an appetizer, 4 as an entree
Ingredients:
1 container chicken stock (32oz.)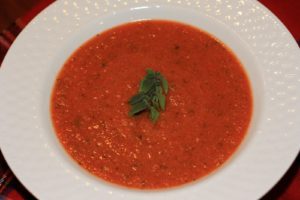 ¾ cup, packed, sun-dried tomatoes (not in oil) or,
a full cup of the tomatoes in oil, drained
2 TBSP EVOO
1 onion, finely chopped
1 large (or two small) carrot, finely chopped
4 large cloves garlic, finely chopped
1 bay leaf
2 TBSP chopped fresh thyme
Kosher salt and pepper
1 cup vodka
1 can (28-32oz.) good quality crushed italian tomatoes
1 cup torn fresh basil leaves
¾ – 1 cup heavy cream
Prep:
In a small saucepan, bring 1 ½ stock and the sun-dried tomatoes to a low boil. Lower and simmer, 6-7 minutes.
Meanwhile, in a large saucepan, heat the EVOO over med-high heat. Add the onion, carrot, garlic, bay leaf and thyme; season with the salt and pepper. Cook until the veggies are soft, about 5 minutes.  Stir in the vodka to deglaze the pan and let simmer a few minutes. Add the crushed tomatoes and reduce to thicken a bit, 15-18 minutes. Add the remaining 2 ½ cups stock, the sun-dried tomatoes and their stock, and the basil. Puree with an immersion blender or in batches, in a standard blender. Return to a simmer in the pan and add the cream.
---
Rum sauce
Ingredients:
 1 stick unsalted butter
1 cup, packed, dark brown sugar
1 ½ cups heavy cream
Pinch of kosher salt
½ cup dark rum or to taste
Prep:
Melt butter in heavy medium saucepan over medium-high heat.  Add cream, sugar and salt. Bring to a boil, stirring until sugar dissolves and mixture thickens a bit. Stir in rum and remove from heat. (Can be prepared two days ahead; cover and refrigerate. Re-warm over low heat, stirring constantly.)
** You can adjust the intensity of the sauce by replacing ½ cup of the dark brown sugar with light brown sugar, and adding a bit more cream.
Also, the sauce I made with the Figgy Pudding is similar, but made with brandy:
**1 stick unsalted butter, 1 cup packed light brown sugar, 2 cups heavy cream, pinch of salt, and ¼ – ½ cup brandy. Method is same.
Enjoy over bread pudding, ice cream sundaes, sauteed or grilled pineapples or peaches atop toasted pound cake and ice cream.
---
Pignoli Cookies
Ingredients: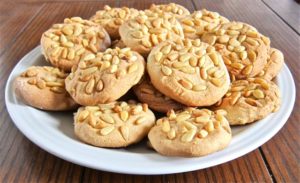 16 oz. almond paste, crumbled
1 ½ cups powdered sugar
2 egg whites
1 lemon, zested
2 TBSP honey
Pinch (1/4 tsp) ground cinnamon
Pinch (1/4 tsp) salt
¼ cup all-purpose flour
½ to ¾ cup pine nuts
Prep:
Preheat oven to 350* (300* if you have a fast oven)
In the bowl of a stand mixer equipped with a paddle attachment, beat the almond paste at high speed until it is really broken up. Add the powdered sugar and mix in low speed until well combined.
Add the egg whites, lemon zest, honey, cinnamon and salt and beat on medium speed until mixture is well combined and very thick, about 4 minutes. Add flour and mix just until well combined.
Place rounded, ½ teaspoon-full portions of dough onto sheet pans lined with parchment or silpats. Gently press pine nuts into dough.
Bake for 12-14 minutes until cookies are golden. Cool on cookie racks.
---
Fish Filets with Asparagus, Carrots and Orange in Parchment
Ingredients: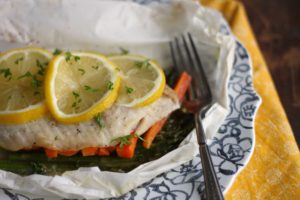 4 15×15-inch squares parchment paper
4 5-to 6-ounce fish fillets (such as halibut or cod; each about 1 inch thick)
2 cloves garlic, minced
12 fresh tarragon leaves, rough chopped
2 tablespoons butter, cut into 4 pieces
1 pound slender asparagus spears, trimmed, cut into 1 1/2-inch pieces
2-3 carrots, peeled and cut into matchstick sized pieces
4 tablespoons orange juice
Grated rind of one orange
4 tablespoons dry white wine
Prep:
Preheat oven to 400*F. Place parchment squares on work surface. Generously butter half of each parchment square; top buttered half of each with 1 fish fillet. Sprinkle fish with kosher salt and pepper; rub some minced garlic on filet and top each fillet with some tarragon leaves, then 1 piece of butter. Arrange asparagus and carrots around each fish fillet; pour 1 tablespoon orange juice and I tablespoon white wine over each. Sprinkle some orange rind on top. Fold parchment over fish and vegetables, folding and crimping edges tightly to seal and enclose filling completely. Place on 2 rimmed baking sheets, spacing apart. do ahead: Can be made 4 hours ahead. Chill.
Bake fish packets 17 minutes. Slide packets onto plates and serve.