A place like St Mark works because many, many people give countless hours of time
and invest their varied talents in the life of our parish. The opportunities are as varied as
the people who give their time, from those who water plants to those who cut the grass,
to cooks in the kitchen, ushers at the door and leaders of processions with crosses, kites
and torches. St Mark works because a lot of people give time, effort and yes, offerings to
make it work.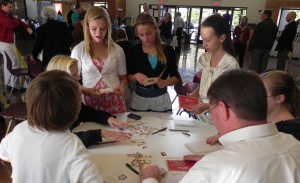 There is another aspect to volunteering at St Mark, though. The many, many ministries
in which St Mark is engaged happen because people feel passionate about an opportunity
to be God's people serving the world. All of the ministries at St Mark happen because
many people feel passionate about finding creative ways to be God's people in the world.
From quilters and sewers to sitting up all night at a homeless shelter to making videos
and taking pictures, ministry at St Mark is exciting because the people who engage in
ministry at St Mark are excited about the opportunity to be God's servants in the world.
If you would like to be part of our ministry, let us know. We would love to hear from
you. If you know what you'd like to do, there's a place for you to do it here. If you're
not certain how you would like to help, contact us and we'd love to help you try to find
something that excites you. But if you have a great idea for how we can be in service
to the world in some new way, we'd really love to hear your idea. All of our ministries
began because God blessed someone with a great idea!