Music at St Mark
St Mark Choir is the best!!  We have a committed and faithful group of people making music together.  We worship, we sing, we laugh, we pray, we practice diligently, and we deepen our faith with our relationships and time spent together.  This past year has been another year of offering great music and of expanding our choir ministry.  Let this be a public "thank you" from me and the people of St Mark for the weeks of music offered this past church year, for the commitment to the music ministry, for the work of worship planning, for the hearts and minds that have invested in this calling.
July and August will be a time of hiatus for the choir. Choir members take a break from the rehearsal routine as rehearsals are suspended until the fall.  Music during worship is enriched with the voices in the congregation.  The fall of 2017 is already resounding with praise as we look forward to our celebrations of 500th and 50th Anniversaries in the months to come.
---
Music and Worship
On Sunday, February 19th, the children and youth participated in Worship Services by presenting "Table for 5,000".  Thanks to all who helped to bring this message to our St Mark family.
---
WORSHIP MUSIC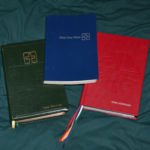 The sung liturgy is a jewel of the Lutheran church and St Mark offers this sung liturgy as the basis of our worship structure. A shorter service, however, with spoken liturgy and a hymn is offered each Sunday morning at 9:30am.
The worship music at St Mark is rooted in traditional settings gathered from the Evangelical Lutheran Worship, the Lutheran Book of Worship, With One Voice and other liturgical resources. Changes to both music and liturgy within the worship services are some of the ways liturgical seasons are highlighted and celebrated.
St Mark prides itself with its love of traditional hymn singing with full and creative support from the organ.  Worship at St Mark is further enhanced with various styles and genres of music as it serves  to glorify God and enhance the scripture.  Each Sunday is rich in music, to celebrate, to contemplate, to draw in and to send forth.  Thanks be to God!
---
 THE ORGAN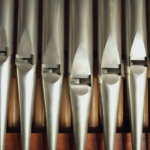 The organ was built in 1913 by the Austin Organ Company. For seventy-six years it provided music for the congregation of Monumental United Methodist Church in Portsmouth, Virginia. During that time it was rebuilt twice – in 1939 and again in 1967. In 1989 the council of St Mark recommended the purchase of the organ from Monumental to enhance the worship of the growing St Mark congregation. The organ was completely rebuilt for the sanctuary at St Mark by the Cannarsa Organ Company. Since then a digital component has been added to the organ increasing the size and scope of the musical sounds offered. The present organ has 19 ranks (approx, 1,387 pipes), a floating digital antiphonal division, and additional digital sounds for the choir and pedal divisions via an Ahlborn Galanti Archive Module. The organ serves admirably for services and special occasions at St Mark. Continued upkeep and discussions for organ renovation are ongoing to ensure that St Mark maintains a place of proud pipe organ music on the peninsula of southeastern Virginia.
---
CHOIR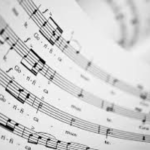 An adult choir of approximately 30 singers meets regularly on Wednesday evenings from 7:30-9:00 for rehearsal in preparation for participation in both 8:00 and 11:00am worship services on Sunday mornings. The choir offers mostly 4-part anthems, a variety of hymn enhancements, support for multiple service music settings used through the church year, and larger works and special music for Advent, Christmas, Lent, and Easter.
Any interested singers are welcome to join the choir, to share in the joy of the music ministry at St Mark. Respond to Greta at: music@smlconline.org.
---
HANDBELL CHOIRS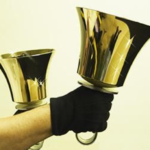 Although hand bells have been around for centuries, tradition holds that the English Handbells we now use began in Great Britain as a way for the ringers of the cathedral tower bells to rehearse without annoying the whole town. As handbells were improved and additional notes were added, handbells became recognized for their own beautiful tunes.
Ringing in a handbell choir is a wonderfully unique way to make music. You are part of a choir, combining to create a resonant melody. But you are also the only member who plays your specific notes. It is this combination of camaraderie and challenge that makes handbell ringing so much fun!
Adult Bell Choir rehearses on Wednesday evenings from 6:15 – 7:15 beginning September 14. We ring to the glory of God about once a month during the 11:00 service.
Two bell choirs rehearse on Sunday afternoons whenever there is Confirmation class at 5:00. Youth Bells 4 rehearses from 4-5 pm. Youth Bells 5+ rehearses from 5-6 pm. Youth Bells 5+ is a combination of youth and adults. Each choir praises God in church about once a month by ringing the preludes to the 9:30 and 11:00 services. Regular rehearsals start on September 18th .
Any questions? Contact Gail Teigeler Home phone: 757-867-6652 Cell phone: 757-810-5691 Email: GailT8792@gmail.com.
---
MUSIC MAKERS (3 year-olds)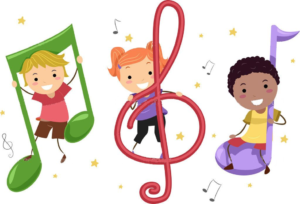 Music for young children is a vital part of the vision of St Mark. Music for children and youth is incorporated into Sunday School, Vacation Bible School and other special offerings for children and youth such as communion classes and seasonal musicals. New this year is a series of sessions for 3 year-olds held on Wednesdays from 5-5:45pm. These sessions are scheduled in blocks (Fall, Winter and Spring) and cater to the musical development of the 3 year-old: pre-singing skills, basic music, and movement activities to stimulate melodic, rhythmic and listening skills, all in a sacred setting with sacred music repertoire and activities. An adult must accompany a child for these small group sessions. Stay tuned for dates of our next session.  Respond to Greta at: music@smlconline.org if interested.
---
Music Minister: Greta Melson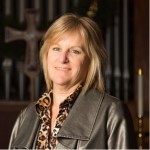 Greta presently serves as director of choirs and organist at St Mark. She brings many years of church music experience to St Mark. Greta most recently worked as choral director at Gloucester High School, Gloucester Virginia, from which she retired and now resides in Yorktown with her husband Duane. She has two grown children, Mitchell and Jenna Reed. Greta holds B.S. and B.A. degrees in music education and in piano, respectively. She holds a Master of Music Education degree from Virginia Commonwealth University. Through her work in the United Methodist, the Episcopal and now the Lutheran church, Greta brings a wealth of music and worship experiences to St Mark. Greta has a passion for choral music for all ages, for planning worship and for playing the organ that all gets put to good use at St Mark!